Welcome to Richard Carmody Independent for Grey's Policy Page!
Most recently updated 17 March 19
Policy List
A Job Guarantee
More info on the job guarantee here
MP's Pay And Conditions The Same As For Average Citizens
As an MP I will do the job for $50K per year (the average salary of the electorate)
I will donate half of the extra $150K per year to schools in the electorate
I will donate the other half to small parties that are going in the right direction (Sustainable Australia, Real Democracy, Reason etc)
Why do this? See here.
Stabilise The Population,via Reduced Immigration to 70,000 per year (from >160,000)
2x Faster Build of Renewable Energy
Further detail here
Establish A Federal Corruption Commission
End Political Donations
In order to comply with my policy on donations, I wont be accepting any, I'll fund my campaign entirely myself
Why do this? See here.
Resist Foreign Ownership And Privatisation
Refer to general economics section on the topics page for further information
For purposes of being transparent I have made a page here where I comment on my position in respect of a whole range of topical issues. It must be remembered that these are secondary issues for me, behind the primary issues already listed above. I believe addressing the primary issues above will make a large impact on many of these secondary issues. They include (in no particular order):

Economics in General
Mining
Nuclear
Voluntary Euthanasia
Disability
Indigenous Australians
Animal Justice
ABC/SBS
Public Housing
Defence
Democratic Innovations like Citizen Initiated Referenda
Innovation
Senior Citizens
Manufacturing
Electric Vehicles
Coal
International Trade Agreements
NBN
Inequality
Health
Education
Pokies and Gambling
Terrorism
Superannuation
State and Local Government
Free-market-ism
Regulation/Deregulation
Wealth Taxes
Whistleblowers
Private Debt
Media Reform
Medicinal Cannibis and the Use of Hemp
Recycling
Water Conservation
Tourism
Heavy Industry and Agriculture Sector Cooperation
Opioids
Drugs
Crime
Banks
Sex Work
Mental Health / Suicide
Family Planning, Contraception and Abortion

Links
FB page: https://www.facebook.com/Carmo4Grey
Data pages, see here: http://www.rickc.id.au/myBB/viewforum.php?f=23
Follow me on twitter, I'm @rick_carmody. That's my personal twitter account, which I use mostly as a place to store interesting reference material. If you follow me though, you'll see the sorts of things I am interested in and value by what I tweet.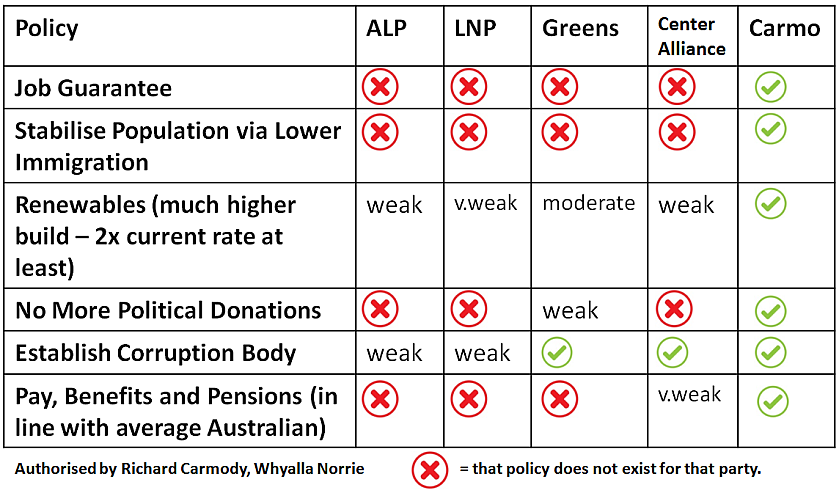 Reasons why I don't need lots of policies: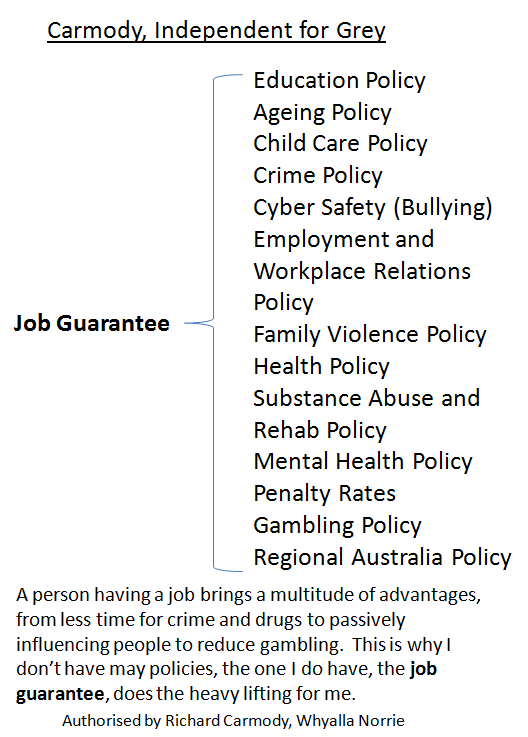 Page created 05/02/19, by me, coding in HTML, a bit rusty, but not a bad effort if I do say so myself. Not sure when I'll get to update it next, I don't have a whole staff to do these things for me, so It'll have to be pretty minimal and no frills. Updated 17 March 19. Authorised by Richard Carmody, Whyalla Norrie.