Whyalla display section
page 8
This photo is one of my favourites. It was taken in late 1997 (in the best storm for that year - as mentioned).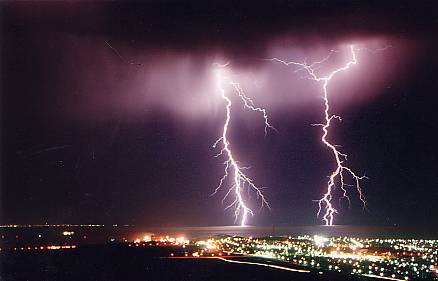 All the photos from page 5 to page 9, including the one above were taken on a night when I should have been studying - I had an exam the next day. On the afternoon of these storms one of my mates came around to do a study session. At the time he arrived at my house I had just returned from a mountain bike ride - which is how I spotted the storms approaching. I told him forget the study, there was no way I was going to miss this opportunity, seeing there would be no way to convince me to change my mind he decided to come with me. During the evening he asked me if it was very difficult to take lightning photos, my reply was that it is a piece of cake once the camera is set up - all you have to do is aim and fire. I decided to let him give it a shot. While the storm in the photo above was happening (to the south) there was one approaching from the west, which is the one he decided to have a go at photographing. He took four shots, two were average and two were good. I've lost one of the good ones (and I'm too lazy to get it reprinted) but I still have the other one, here it is: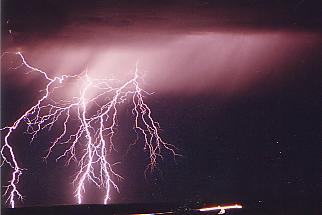 Not bad for a first up effort.
Here's another photo from the same night, it's another one of lightning over the Onesteel steelworks which, I might add, is where I work.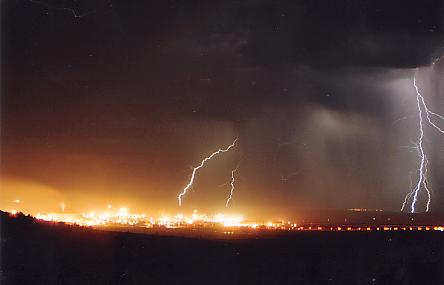 There is still more photos from this storm on the next page.