Fast link to pages in this section
Storms and lightning, Adelaide, 20th of September 2003. Page 2
Just as the activity to the south was dying and passing over the Adelaide hills it became clear that there was activity to the northwest. It wasn't from the original storms to the north that I had seen but some new rapidly intensifying cells. They were still probably 30 to 40km away when I first looked at them. The lightning was infrequent but relatively spectacular - probably assisted by the fact that they were coming from more middle level "dryees". I watched for a bit longer and decided that they were probably going to produce some really spectacular stuff - the only problem was the fact that the lookout didn't have a particularly clear view in the required direction. I decided it would be worth it to shoot off down to the suburb of Gulfview heights where I knew there was a couple of roads from which I could get a really good view. As I was driving down there a couple of really good strikes occurred, the frequency of strikes was increasing too. After a mad dash through Gulfview heights (forgot the way a couple of times) I pulled up and set up the camera as fast as I could. What I got was the two photos below: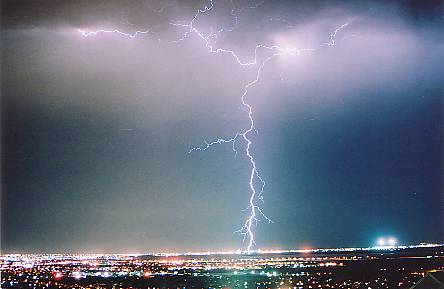 The photo above is the first one that I took. If I had been slightly quicker I would've capture a strike before this one that was the most distant but most spectacular one of all - even better than the one below!
The storms were moving really rapidly and I took this second shot, then there was a few strikes really close to me (the one below was still several km distant) so I bailed into my car. It was clear after a minute or two that the best stuff was past me, so I opted to head back up to the Wynn Vale lookout and try and get some pics as the storms headed over the Adelaide hills but no more cloud to ground strikes occurred and all I got was a couple of CC shots, the best of which is on the bottom of this page.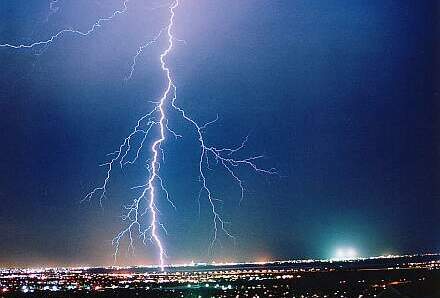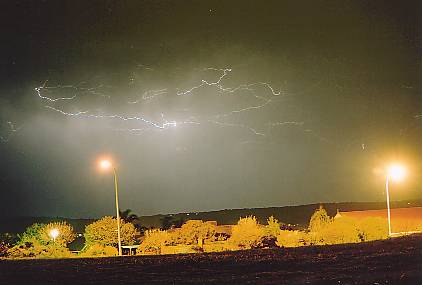 forward