Storms and lightning, Adelaide 20th of September 2003. Page 1
Adelaide, September 20, 2003. This is the only decent opportunity I have had to take lightning photos in Adelaide and I nailed my one opportunity quite well I think. Have a look at the shots in here and see what you reckon.
The event was a bit of a surprise really, there was a slight chance of some storm activity but lately even half chances in Adelaide have yielded very little.
Anyway, I noticed some approaching activity on the lightning tracker and headed out for a drive. I decided to head to the nearest good lookout which is the vacant paddock out behind The Pines Hockey grounds. I was about 3km from my destination and hadnt seen any distant flashes when all of a sudden a massive cloud to cloud strike lit up all the sky directly above me. That was a surprise from nowhere. I got to my lookout area and got out the car. I was there for about one minute when another really spectacular CC lit up overhead. The lightning branches could all be seen clearly as the lightning was occurring beneath the cloud and given the area they were covering it was quite a sight. The lightning was coming from mid level clouds which were producing very little rain so the lightning was very clear to view.
Deciding there was enough activity to make a trip to one of the best lookouts in Adelaide - Wynn Vale lookout - worth it I got back in the car and headed north to the lookout. There was very little activity after the previous two CC's. After looking from the lookout for about 10 minutes it became evident that there was a host of storms all around Adelaide, to the north, south, west and east, however none was particularly spectacular. I stayed and watched for longer trying to pick the direction of movement of the storms. It was hard to pick their movement direction but I sensed there was a chance that the storms to the north may be moving towards us and as these were the pick of what was around in terms of frequency and spectacle I decided to stay where I was. There was also enough activity to the south of Adelaide to get the camera out and take some shots while I waited for the Northern storms to approach.
The shots of the storms to the south are below.
These shots below aren't particularly good.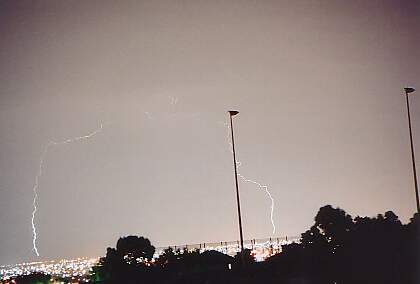 Below: looking directly to the south along the Adelaide hills, bit of CC stuff.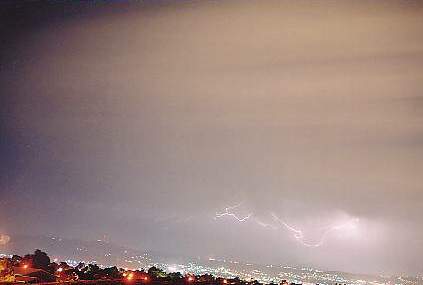 The storms to the south did crank up for a while, but would have been 20 plus km away so the shots aren't anything too special: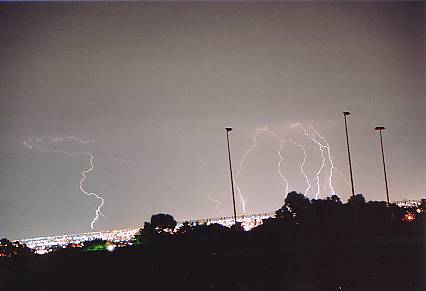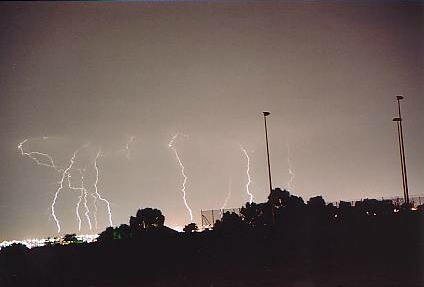 Using my zoom lens I zoomed in on the storm as it passed to the south of the CBD: